PURCHASE
CONTACT
CONTACT JACOB MORRISON

X

Your name
Email address
Message
Enter the code you see

Incomplete information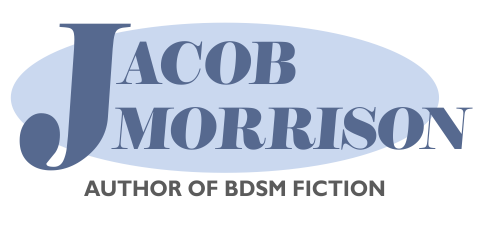 Jacob Morrison is a UK-based BDSM player who has published his first gay BDSM romantic novel – Educating Alex.
About the book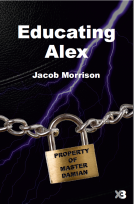 Alex Jennings' life is a mess. He spends every waking hour obsessively masturbating to online porn videos to the detriment of his whole existence. And it gives him very little pleasure.
But then one day he is approached by Damian Hall, producer of those videos, and invited to become Damian's chastity-locked SM slave.
As Damian takes charge of Alex and trains him in the duties and pleasures of the dungeon, Alex finally learns to take control of his own life.
Along the way Alex and Damian each learn some surprising secrets about the other and develop a lasting loving relationship.
WARNING This book contains graphic descriptions of gay sex, chastity play, caning, whipping and flogging, electro sex and bondage.
You can start reading it HERE
The book is available both as a paperback and an e-book.
About Jacob Morrison
Jacob Morrison has been an SM practitioner and educator for over 30 years.
During that time he has enjoyed both top and bottom roles in a wide range of SM activities and set up numerous SM community web sites and organisations.
He has also been involved in a number of organisations in the UK and elsewhere campaigning for the rights and legal protection of SM activities and those who take part in them.
Under the nickname Locked57 he created and runs the very popular men-on-men chastity community LockedMEN
About BDSM
The world of sexual sadomasochism, or BDSM or SM as it is commonly referred to, is one little understood by those who do not take part in its sensuous delights of pain as pleasure, dominance and submission.
From the outside, SM play can appear as pure violence – one person forcing another, against their will, to endure what would otherwise be deemed torture. But SM is a game, a game of erotic sensuous play, of mutually exploring the boundaries of pain and pleasure, where one party relinquishes control in order that both can enjoy intense physical, emotional and sometimes spiritual pleasures.
What distinguishes SM sex from torture and violence is consent. To a bystander, SM activities may look identical to violence and they may conclude that the participants are out of their minds for engaging in them. But once you appreciate the consensual, mutually pleasurable nature of what is going on and look beyond the externals – the SM paraphernalia of floggers and whips, hoods and gags, ropes and chains, the marks and the screams – you will discover tenderness, love and mutual respect, and an intimacy that can go beyond everyday sexual intercourse.